February 16, 2023
Why choose automatic soap dispensers for your washroom?
Many businesses are switching to automatic soap dispensers as part of plans to provide a better washroom experience for their customers and employees – welcome news for the 60% of people who say they do anything (including flushing the toilet with their feet!) to avoid touching items in a washroom*.
By upgrading your existing manual or pump top handwash dispensers for modern, touch-free alternatives that eliminate the need for contact, you're not only providing a safer and better experience for your users but also helping control your long-term costs too.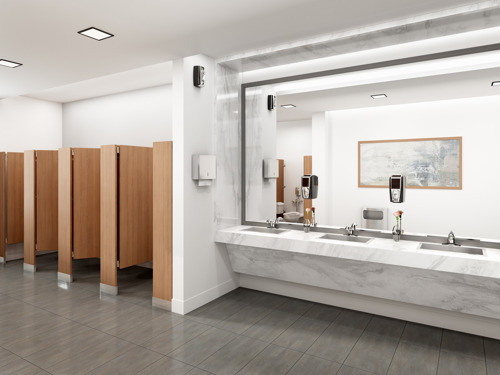 How does an automatic soap dispenser work?
A touch-free soap dispenser uses a sensor to automatically dispense soap without the operator needing to make contact with the dispenser itself. With 80% of germs spread by hands1, touch-free dispensers help to prevent cross-contamination while allowing users to clean their hands thoroughly with minimal fuss.
Are touch-free dispensers more hygienic?
Touch-free soap and sanitiser dispensers remove a cross-contamination point, helping to provide safe hand hygiene. As no physical touch is necessary, the risk of contact with germs among users is eliminated whereas a manual dispenser requires the push of a button to dispense soap.
Why are automatic dispensers better?
Automatic handwash dispensers offer a sleek, modern design that are easy to use. As 77% of consumers view a business more or less favourably depending on the state of its washrooms2, it's vital to deliver a modern, high-quality washroom experience that meets consumer expectations.
As well as being easy-to-use and more hygienic, touchless soap dispensers help businesses to control their costs and minimise unnecessary wastage, compared with alternatives that use a 'bulk fill' topping up method and pump top bottles.
How to refill an automatic soap dispenser
Rather than being 'topped up' with soap, automatic dispensers use hygienically sealed refills. Using sealed refills dispenses the right amount of product for a safe clean in one shot and provides more applications per refill, therefore offering better cost in use than bulk fill or pump top alternatives. Using sealed refills is another way of controlling the risk of contamination – one in four 'bulk fill' dispensers is actually infected with illness-causing bacteria!3
What powers automatic soap dispensers?
Most dispensers are powered by batteries, but if you're looking for a solar-powered alternative, consider Rubbermaid Commercial Products' innovative LumeCel™ AutoFoam dispenser. Powered by natural or ambient light, the LumeCel™ is a market-leading battery-free option for brands wanting to improve the sustainability of their hand hygiene.
What types of automatic soap and sanitiser dispensers are available?
Whatever sector you're in or size of your facility, the range of automatic dispenser options means there is something that will suit your bespoke needs, including:
You can read more about matching your hand hygiene solutions to your facility's needs in our blog.
Sources:
*. Impulse Research Corporation Survey
University of Arizona Study, Dr. C. Gerba.
initial.com, Washroom Malodour: How it can impact your business
Journal of Environmental Health 2011.