Why backache is a headache for businesses and how to help avoid it
Musculoskeletal disorders (MSDs) are one of the most common work-related ailments in Europe, with over 58% of workers reporting they have suffered from at least one*.
As well as being painful for the individuals, MSDs are proving costly for businesses. Loss of productivity, disruptions in teamwork, production delays, compensation and sick leave are all unwelcome and expensive consequences. In sectors where physical work dominates – such as construction, manufacturing, logistics and warehousing – MSDs are more likely to be prevalent. So, how can your business help prevent backache becoming a headache?
Understand the risks
By the time an employee has developed a musculoskeletal disorder, the direct and indirect costs are often irreversible for your business, and with research showing that one back-related MSD alone costs a company EU 17,000 on average1, identifying risks and taking preventative measures is as essential for health and safety as it is for your bottom line.
Carrying and lifting heavy workloads are among the key physical factors that increase the risk of your employees developing MSDs. In tough environments where your team are constantly moving materials and waste, your workers are particularly vulnerable to developing musculoskeletal ailments, with 52% of construction workers and 46% of manufacturing workers reporting backache in 20152. Shifting these loads using containers that have not been ergonomically designed can cause strain to workers' backs and increase the risk of them developing MSDs.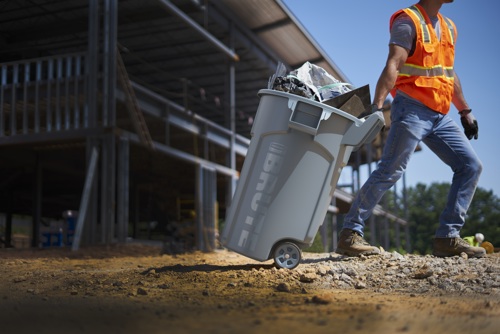 Let your equipment do the heavy lifting
While rotation of tasks and regular breaks are important, choosing the right equipment for heavy lifting is essential when it comes to reducing the risk of injuries.  With the famed durability and robustness of the original iconic BRUTE®, RCP's new Wheeled BRUTE® waste container has been designed with ergonomic features that help users move waste more easily while maintaining healthy posture.
With an ergonomic handle that simplifies transportation and requires less force when moving heavy loads of up to 80kg, the Wheeled BRUTE® helps to prevent users from putting excessive strain on their backs and shoulders by leveraging other muscles. The neutral wrist position allows for comfortable manoeuvrability and control while the kick/tilt plate allows users to tilt the container with their foot, reducing strain on the upper body. The 6" wheels remove the need for dragging, meaning loads can be moved five times more easily3. The Wheeled BRUTE® also has built-in venting channels to facilitate airflow, making removing liners up to 50% easier, further reducing the risk of worker injury.
Implementing preventative measures such as the new Wheeled BRUTE® keeps your workforce moving and minimises the future negative impact of MSDs on your team and your business.
Famed durability to help you Buy Better, Waste Less
Working in demanding environments with heavy workloads requires products that stand up to their surroundings. Since 1968, BRUTE has helped businesses improve productivity by managing and collecting waste more efficiently and safely. Over 5 decades later, BRUTE still has your back – quite literally!
Choosing high quality, durable products that are made to last also helps you to reach your sustainability goals. Investing in products built to last longer reduces the need for your facility to re-purchase solutions frequently. In turn, waste, costs, and energy generated from remanufacturing and transporting your solutions are minimised. Even on the tough terrain of the construction site, Wheeled BRUTE® containers are guaranteed to never fade, crack, warp, rust or dent and come with a 5-year warranty for added peace of mind.
Choose the Wheeled BRUTE® for a durable and ergonomic solution that will help you protect your employee's health and wellbeing while delivering for your sustainability goals.
Sources:
* Panteia based on the fifth (2010) and sixth (2015) waves of the European Working Conditions Survey (EWCS)
Work-related musculoskeletal disorders – Facts and figures, European Agency for Safety and Health at Work
Panteia based on the sixth (2015) wave of the European Working Conditions Survey (EWCS)
Based on internal testing vs 44G non-wheeled BRUTE ® container