January 18, 2023
Meet our Quality Manager Steven Kenney...
Steven joined Newell Brands as a Quality Control Technician for Rubbermaid Commercial Products' (RCP) Technical Concepts brand back in 2009, progressing into the role of Quality Control Supervisor then Quality Manager in 2022. He brings with him a wealth of cross-industry experience from the automotive, aerospace, aggregates and asphalt industries.
We caught up with him to find out more about his role as Quality Manager...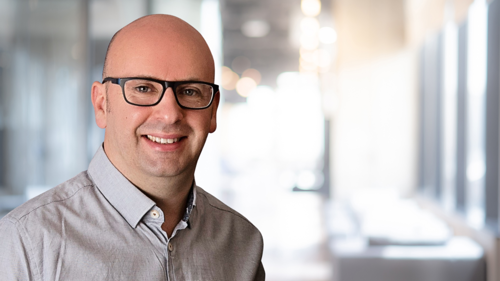 Can you tell us a bit about what your role as Quality Manager consists of?
In a nutshell, I lead the Quality teams across our distribution centres, from our hub at Fradley Park to supporting teams in France and the Netherlands. What does that actually involve? As well as the overall planning and management of the quality of incoming and outgoing goods, I work closely with our suppliers, reporting any non-conformities and putting corrective and preventative measures in place to ensure that quality is always maintained. I also carry out supplier assessments, production part approval processes (PPAPs), maintain the global Quality Management System and ISO certificates for our distribution centres, and provide technical support and training for washroom products to our customers, customer service teams and sales teams – so, you could say it keeps me busy!
Who do you work with from the wider company and how?
The best part about my job is that I get to work with everyone. Whether I'm working with the research and development teams after product testing, or managing suppliers by conducting site audits and establishing corrective and preventative actions or feeding into the marketing, sales and customer service teams by providing them with product information and technical support, it's a very collaborative role that allows me to work across many teams.
Why is your role so integral to the RCP brand?
At RCP we're always looking to exceed user expectations. My role is vital in not only guaranteeing that our products are made in the most sustainable and cost-effective way, but also in ensuring that the consistency and reliability that the RCP brand has become synonymous with is maintained.
How is your role linked to sustainability?
For me, quality control and sustainability go hand in hand. Having a quality management system in place at all stages of the manufacturing and distribution processes ensures the correct measures are being taken to achieve high quality, durable products that are manufactured right first time. We are known for products that are built to last and I'm proud of the integral part my team play in RCP's and our customers' sustainability journeys.
How do you think RCP provides value to its customers?
I'm confident that in terms of product we are considered market leaders. We provide durable solutions that come with lifetime warranties – what further proof do you need? Aside from the products themselves, it's the people behind RCP and their expertise which is really where our value lies. Our team come bursting with experience and knowledge from all fields and have a strong understanding of the changing needs of the industry. Take the quality team for example, the technical support and product expertise we give to the sales teams, allows them to create a partnership with our customers, meaning that we can understand their needs better and offer them help on how to get the most out of our products.
Can you tell us a little more about what you think RCP stands for and how it provides value to its customers?
By creating innovative and durable cleaning, hygiene and waste management solutions to thousands of people around the world we have well and truly secured our spot as a global leader. We create products that outlast and outperform the competition, provide enormous value to the end-user with products that perform at a high level and are easy to use, all while anticipating and adapting quickly to changes in the market. Something that we're really proud of is our commitment to supporting businesses on their own sustainability journeys, by creating campaigns such as our Love Recycling initiative, providing free resources, carrying out research and even offering face to face support. All this along with our own Newell values of truth, transparency, teamwork and trust is what RCP stands for.
Lastly, what do you enjoy most about your job?
Now, this is an easy one to answer! In my role no two days are the same and I have the pleasure of working with such a wide variety of people. The people are really what make RCP and I feel genuinely proud watching my team and other areas pull together to overcome a challenge, whether that's resolving an issue, offering technical support or simply helping on a project.