December 23, 2021
Costly and unhygienic: the false economy of bulk-fill
Buying in bulk is often seen as the cost-effective and sustainable choice. But looking at the detail, are you really getting what you expect and pay for?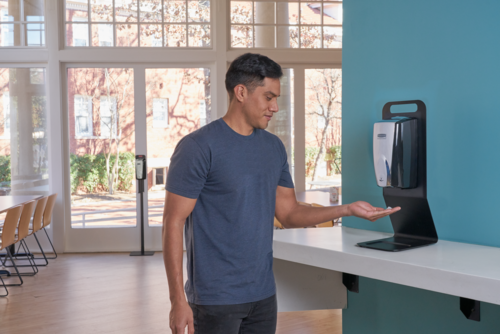 With 80% of germs spread by hands1 and viruses able to survive on hands up to five minutes after transfer from a surface2, it's clear to see that without quality hand hygiene solutions the spread of illnesses such as colds, flu and COVID becomes more likely. With workers averaging three sick days per year3 productivity losses are high: if your business has just 100 employees, it could be £35,100 a year4.
So what if we told you that at least 1 in 4 bulk hand hygiene dispensers are contaminated with illness-causing bacteria5? There are multiple points on the dispenser where bacteria can contaminate the replenishment supply, such as an open-top lid and push-button. Often, units don't get cleaned but are "topped off" against guidelines6 and they then cannot be decontaminated; an infected unit must be fully replaced to remove the risk7.
It's not just contamination that can prove costly: the amount of product dispensed when using a bulk-fill solution compared with the amount required for a safe clean means unnecessary wastage is hitting your bottom line too.
What's the alternative?
Choosing dispensers that use hygienically sealed refills keeps soap and sanitisers fresh and free from cross-contamination.  Their concentrated dosing also means more applications per refill, offering better cost in use. And if that's not reason enough to switch, more uses per refill means less waste so it's a greener choice too.
Take a look at LumeCel™
Battery-free, touch-free and using hygienically sealed refills, the RCP LumeCel™ AutoFoam dispenser is just one of our complete range of highly visible and easy-to-use solutions that provide your facility users with effective hand hygiene and which support sustainability practices. Find out more here.
1 University of Arizona Study, Dr. C. Gerba.
2 The Journal of Infectious Diseases.
3 BLS.gov.
4 Average salary taken from Olive Pometsey, GQ Magazine.
5 Journal of Environmental Health 2011.
6 CDC.gov Guideline for Hand Hygiene in Health-Care Settings.
7 Evaluation and remediation of bulk soap dispensers for biofilm