March 06, 2023
Controlling cleaning, hand hygiene and waste complexities in the modern retail environment
End-to-end management of a retail facility presents a variety of cleaning, hand hygiene, and waste and recycling challenges. From exceeding customer expectations by providing a clean and welcoming front-of-house environment, to maximising productivity, safely moving goods and efficiently managing waste back of house, there are a variety of complexities for retail facility managers to consider.
All against the backdrop of managing rising costs and increasing consumer pressure to be more sustainable – 72% of consumers consider sustainability in purchasing decisions while three quarters prioritise product sustainability over the brand name1.
How can you address these challenges you face every day in your busy retail environment?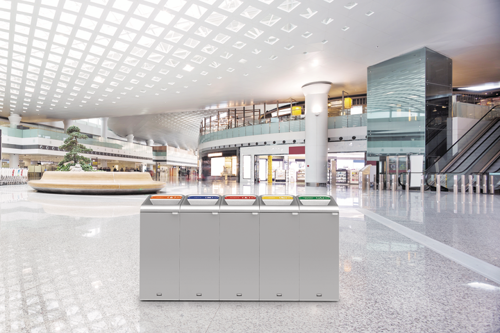 Building trust goes beyond the shop floor
No matter what you're selling, one thing all retail facilities have in common is the need to present a clean and hygienic environment to customers. Customers don't want to shop in stores they deem unhygienic – 99% of retail customers say they are influenced by poor cleanliness2.
While dirty surfaces, dusty shelves and sticky floors are obvious turn-offs for customers, one often overlooked but influential area is your washroom. Consumer research3 shows that 50% of people would avoid a supermarket in future, and 45% a retail store, if they encountered a dirty washroom. Can you afford for your washroom to let you down?
One of the key basics to get right in your washroom is your soap dispensers. As well as malfunctioning bulk fill dispensers or clogged up pump top bottles being visually unhygienic and frustrating for customers to use, they're not doing your business any favours. Instead, opt for automatic touch-free dispensers that 92% of users prefer4. Using hygienically sealed refills, these aesthetic dispensers minimise wastage through concentrated and controlled dosing, giving you better cost in use as well as an improved customer experience.
For more tips and advice on how bring your washroom in line with customer expectations, visit our HandSafe page.
Top front-of-house product picks:
AutoFoam 500ml Soap and Sanitiser Dispensers
Tight spaces needn't mean compromising when it comes to installing user-preferred touch-free soap and sanitiser dispensers in your washroom and throughout your store and staff areas. Our AutoFoam dispenser now comes in a compact 500ml size, perfect for retail facilities that need to free up valuable counterspace.
Passive air care systems
It's well known in retail that first impressions count. Over two thirds of consumers surveyed5 said an unpleasant smell in a washroom would make them less likely to shop at a store in future, so a clean and fresh-smelling washroom is essential to avoid turning customers away from your tills.
A passive air care system attacks odours at the source, releasing fresh-smelling fragrances to create the ultimate sense of cleanliness and helping to protect your reputation.
Mobile barriers
Easy to use, easy to see, easy to move, and easy to store. Our mobile safety barriers make it easy to react to situations smoothly. Whether you need to guide customers away from a broken escalator or protect them from a trip hazard on the shop floor, these visible articulating panels can be set straight, curved or in a circle to make your retail environment safe for users.
Better for the planet, better for your bottom line
While consumer pressures on retail business to be more sustainable mount, improving recycling practices in your facility can reap rewards for your budgets as well as your reputation. It's a common misconception that implementing better recycling practices will actually cost more, whereas  reducing the amount of waste you send to landfill and increasing your recycled waste actually saves you money. Leading parcel group DPD's improved recycling practices are set to divert 500 tonnes of waste every year to the circular economy, resulting in 27% cost savings. To find out more about how they've done it, take a look at the case study.
Top waste management product picks:
Slim Jim® Recycling Stations
Offering a small footprint for tight spaces, Slim Jim™ Recycling Stations prevent cross-contamination of recyclable and non-recyclable materials and reduce the amount of waste sent to landfill.  Your back-of-house team can benefit from close attention to detail in the system's design, which ensures strong ergonomics and usability. The stations are easy to clean, while the containers feature four integrated venting channels that create airflow making removing liners up to 80% easier, reducing strain on people handling the task.  The customisable colours and lids mean you can consistently customise the bins to meet your waste stream requirements.
BRUTE®
In busy back-of-house environments, you need high capacity waste containers that stand up to the demands placed on them. Trusted to last, BRUTE® containers are constructed with the highest quality materials, helping your teams manage all types of waste more effectively, faster and safer than ever. Ergonomically designed features reduce exertion and support worker safety.
Durability is key when it comes to sustainability. Our waste and recycling containers are crafted of the highest quality commercial-grade materials, meaning they last longer. Because the stations can withstand frequent use over long periods of time, they do not need to be replaced frequently.  This reduces the waste, costs, and energy generated from remanufacturing, transporting, and installing solutions, meaning waste management processes that are sustainable on a holistic level.
Save money by saving seconds
Whether you're quickly restocking shelves in-store or under pressure to deliver a fast and seamless click-to-delivery journey, there's one thing for certain: time is money when it comes to retail.  Being able to perform your back-of-house operation as efficiently and safely as possible is essential. According to research from IDC6, inefficient processes can cost companies between 20-30% of their revenue every year. Even just an extra five seconds in the workflow can cause a loss of profit7. How can you stop those lost seconds turning into lost profits?
Choosing the right equipment to move loads around your facility is the top priority here. If your material handling equipment isn't designed ergonomically, you'll find your workers straining, stooping, and hunching when moving goods around your facility. Processes take longer, and the risk of injury is higher.
Choose equipment that's been designed with movement in mind, meaning your team can move heavier loads faster, more efficiently and more safely in one trip.
Top material handling product picks:
At RCP, our material handling equipment has ergonomically designed features to ensure worker safety and increased efficiency, while reducing the risks of injuries.
Tilt Truck
Our  Structural Foam Tilt Truck allows your operatives to transport up to 272kg of good with ease. Its industrial strength structural foam construction and a unique "steering wheel" have been designed to ensure your workers maintain proper posture back posture when manoeuvring and reduce body strains through a consistent use of different muscles.
A-frame Truck
A versatile, multi-purpose material handling solution, the Convertible A-Frame Truck's unique construction combines the bulk load capacity of standard panel trucks and bar stock trucks with the functionality of a heavy-duty two-shelf cart. Save crucial hours and money in the workflow by enabling your employees to transport oversized, heavy loads in one trip.
Book a meeting with one our experts
If you'd like to have a chat with one our team about how RCP can help your retail facility control the complexities you face, please fill in our contact form.
Sources
1 First Insight
2 Emprise
3 Cintas
4 RCP Facebook Hand Hygiene Survey 2020
5 Initial Washroom Hygiene: 'Washroom malodour: Experiences, perceptions and implications for businesses'
6 IDC
7  Honeywell, Unlocking Hidden Cost in the Distribution Center.