May 09, 2023
CHOOSING THE RIGHT WASTE MANAGEMENT SYSTEMS
Modular systems allow your facility to install bins that improve recycle rates without disruption to productivity and effectiveness.
With 75% of warehouse and logistics businesses facing pressure from customers to improve the sustainability of their operations1 there's never been a better time to invest in your waste management systems. Despite 80% of businesses in the sector having goals and targets in place to support environmental programmes2, after talking to many leaders in the sector, it's clear that often they don't know where to start when it comes to the multiple areas in their facilities. With different areas requiring slightly different solutions it can be daunting when considering budgets but investing in durable solutions across all areas doesn't need to cost the earth – in more ways than one!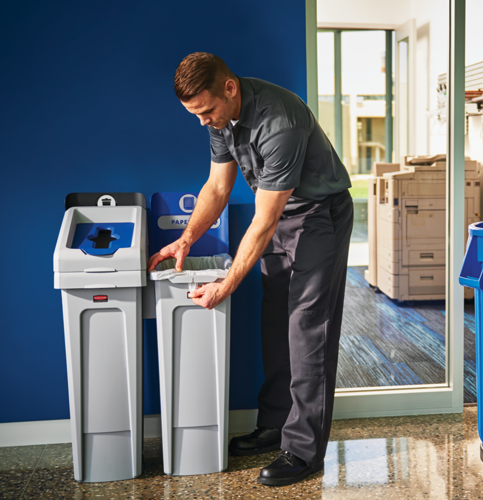 MADE FOR THE SHOP FLOOR
The shop floor of a warehouse is the beating heart of the business. With tonnes of materials and goods being moved on an hourly basis it's important that any waste management solutions can support high volumes, are durable and designed to move easily.
For ¾ of managers maintaining productivity is a concern3 and with almost 3,000 hours of labour lost every year due to poor productivity practices4, what could inefficient waste systems be costing your business? Over half (58%) of workers have suffered from musculoskeletal disorders, with this kind of industry being most prevalent within the manufacturing and transportation sectors5. By opting for equipment such as the new Wheeled BRUTE® which moves 5x more easily, with ergonomic design you not only prioritise the safety of your staff, but you also protect your bottom line.
The BRUTE® range offers just that. Helping your team to drive waste efficiency more productively and safely than ever before as well as being built to last. This durability means buying less and buying better – helping your business to protect budgets and boost sustainability credentials.
FUNCTIONALITY BACK OF HOUSE
With facility managers looking at the sustainability practices of their sites as a whole, administrative areas, canteens and staff rooms must also be considered. Here the need for a system that ensures the effective separation of waste without compromising space is key. Supporting your staff with modular solutions that allow them to easily separate their waste in the streams that are relevant to your business, avoiding cross-contamination, will save you money and improve your businesses' green credentials. Take our Slim Jim® Recycling Stations, for example. Discreet, space-efficient and customisable to suit each area of your facility, they can be the key to dramatically increasing your recycling rates, helping you to meet environmental targets, and make financial savings relating to waste disposal. Take top logistics company, DPD, after integrating Slim Jim ® Recycling Stations they cut their costs by 27% by not sending waste to general disposal and were able to take their recycling efficiency rate to over 90%.

Choosing the right waste management systems could have both positive environmental and commercial implications for your warehouse. In fact, according to findings from RCP's latest report Why Product Longevity is a Powerful First Step to Improving Commercial Sustainability, extending the lifecycle of passive products (products that do not require energy usage, or supplementary materials during their life cycle) reduces environmental impact by up to 72% and reduces commercial cost by up to a third6. It's therefore clear that the key is to invest in products that will stand the test of time, prioritising solutions specific to each area with a focus on protecting the health and safety of your staff will help boost productivity and cut costs.
Sources:
European Logistics & Supply Chain Sustainability Report, researched by Analytiqa
European Logistics & Supply Chain Sustainability Report, researched by Analytiqa
Honeywell study: Unlocking Hidden Cost in the Distribution Center.
Work-related musculoskeletal disorders – Facts and figures, European Agency for Safety and Health at Work
The Benefits of Extending Passive Products Lifespans