septiembre 14, 2023
Unpacking the complexities of UK recycling legislation
Next year, new legislation in Wales will come into force meaning material that is prime for recycling must be separated prior to collection and kept separate throughout processing. With similar legal requirements already in place across England, and non-compliance resulting in hefty fines and potentially even civil sanctions, is your waste management operation ready?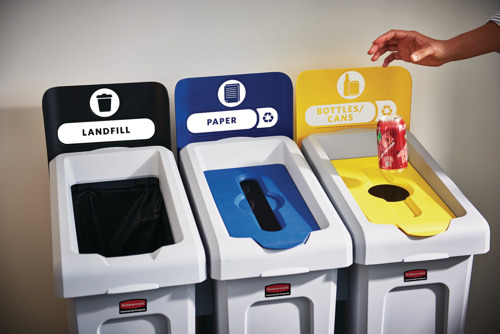 What are the new recycling laws in the UK?
All too often legislation can be complex, confusing even, and with rules coming in Wales and existing laws in England, making sure you understand your legal requirements when it comes to commercial waste is essential.
Wales
Legal requirements in Wales will come into effect from 6th April 2024. The new legislation states that it is the responsibility of those collecting or arranging the waste (the businesses producing the waste) to organise for material that is prime for recycling to be separated prior to collection for processing off site, and kept separate throughout. In order to minimise cross-contamination and ensure that the largest majority of material can be recycled, commercial and municipal facilities must offer multi-stream recyclable waste at the point of collection for processing.
Recyclable waste should be separated into six streams:


Food waste – for any facility creating over 5kg of waste per week
Paper and card
Glass
Material waste – metals, plastics and other packaging of a similar composition
Electronic equipment
Unsold textiles
It's also worth noting that commercial facilities are banned from disposing of food waste into the sewerage system and from allowing the specified waste streams going to incineration or to landfills.
The new legislation includes details on what organisations can expect to face as a result of non-compliance. In relation to separation requirements, failure to comply can bring an unlimited fine and in place of prosecution, civil sanctions can be issued for failure to comply.
England
As in Wales, the English government imposes specific legislative requirements on commercial entities and the waste collected on, and transported from, their premises. In 2021, the UK government passed the Environmental Act which establishes the requirements for "recyclable relevant waste" or waste that falls within these five streams:
Glass
Metal
Plastic
Paper and card
Food waste
In order to be compliant, commercial entities must adhere to a number of conditions. Much like in Wales, commercial facilities are required to split recyclable relevant waste for the intended purpose of recycling or composting, before collection for processing and keep it in isolated waste streams in order to prevent cross-contamination. Again, similarly to Wales, the legislation specifies that it is the responsibility of the facility producing the waste to present it in a separated way in accordance with the arrangements detailed in the Environment Act 2021.
Read our comprehensive guide to recycling legislation here.
How else can your business benefit from better recycling?
We know that for 60% of businesses, the perceived cost of implementing sustainability practices such as recycling can be off-putting* but it's worth remembering that compliance is the responsibility of the business generating the waste. And with hefty fines a possibility, it's an investment that's sure to pay in more ways than one. But not only will complying with legislation see your business' recycling efficiency improve, it can also help you cut costs and enhance your sustainability credentials.
Take DPD, for example. When the leading parcel group upgraded their recycling system, they found it was a move that not only made environmental sense, but financial sense too. Due to greater recycling efficiency rates of over 90% at sites where a multi-stream recycling system had been implemented, DPD will now reap the financial savings for years to come.
DPD's Head of Sustainability, Olly Craughan, exalted the cost savings achieved: "in addition to environmental savings we're seeing 27% cost savings of not sending waste to general waste disposal, which means we will recoup our investment within a year".
What does compliant recycling look like?
As commercial facilities will be required to split waste before collection for processing, installing multi-stream waste containers that separate waste at the point of user deposit is the most efficient way to operate. Provide easy and visible solutions front of house, with Slim Jim ® Recycling Stations, and handle volume back of house with ease with large containers such as the BRUTE®. To understand more about which bins are best for each area in your facility and to learn more about the 10-year and 5-year warranties on our waste and recycling products click here.
Get started with a free waste audit
Not sure where to start? Use our free online audit tool to find your indicative waste and cost savings in just 90 seconds. Answer six simple questions to get an estimate for your business here.
* RCP Research - Question 15
**https://www.rubicon.com/blog/recycling-contamination-facts/