octubre 27, 2023
Behind the Scenes of Clean – thanking hygiene heroes across the country
Recently we visited some of the hardworking and dedicated cleaning and hygiene teams that work tirelessly to keep facilities and venues across the UK running smoothly and safely.
As part of our Behind the Scenes of Clean initiative, some of our team met with members of the Edgware Community Hospital, Kanso Facility Management and Sanctuary Supported Living teams as part of a global series of engagement events to celebrate the valuable contributions they make every day. Spanning five countries, the Behind the Scenes of Clean initiative has seen over 40 events taking place with over 3,000 cleaning and facility maintenance professionals thanked for their efforts.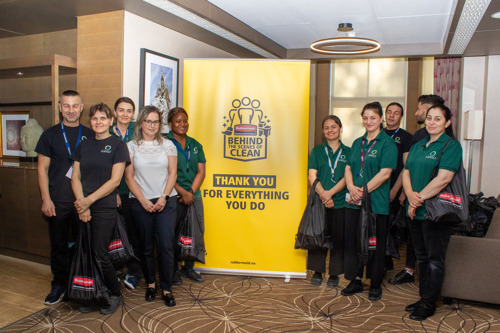 As well as an important opportunity to speak directly to those who benefit from using RCP's products on a daily basis, it was a chance for the teams to take some time out from their hectic schedules and have some fun together, explains our very own Business Development Manager Ben Clibbery.
"As experts in the cleaning and hygiene field, we recognise the importance of appreciating the tireless and challenging work cleaning and maintenance professionals undertake every day to keep their visitors safe and comfortable.
"The Behind the Scenes of Clean events were a fantastic opportunity to show our genuine appreciation for hard work that often goes unnoticed, and I thoroughly enjoyed being able to chat to the teams and thank them with some Newell goody bags, a raffle, certificates and, of course, some lunch!"
The first stop on the Behind the Scenes of Clean tour was Edgware Community Hospital, where there was chance to shine a light on the incredible team who always go the extra mile to keep patients and staff safe, a gesture that was appreciated by George Medina, Soft FM Manager – North Central East London:
"It's been wonderful to get together with the RCP team for this event - it's not often that our cleaning teams get to take some time away from their roles to spend time together and reflect on the important contribution they make to keeping people safe while they're here at the hospital."
This appreciation for the team, is what led to the partnership with RCP initially, George explains:
"The team here put so much into their roles and care passionately about the wellbeing of everyone who comes to the hospital, so I wanted them to have the best cleaning tools available.
"We've recently upgraded to lockable healthcare and janitorial carts from our previous clunky equipment, and this has made the world of difference. Not only are they more comfortable for the team to operate, but they help us to be more efficient meaning we can maintain the highest standards of cleanliness, which is so important here."
RCP also went Behind the Scenes of Clean with the Kanso Facility Management team, visiting four hotels across London - Dorsett Hotel, Double Tree Kensington, Heeton Kensington and Luma Hammersmith – to thank the housekeeping teams for their diligent work in providing a five-star level of cleanliness at the hotels.
Norma Bresciani, Executive Director at Kanso Facility Management said of the day:
"Our housekeeping teams work incredibly hard every day to ensure hotel guests are given the best possible experience and can enjoy a clean and healthy environment during their stay. They never ask to be thanked for their hard work, but I know they appreciated their moment in the spotlight, so it was lovely to see them being treated and celebrating together as a team.
"We are grateful to the RCP team for making this event happen and it has cemented our partnership with RCP perfectly - our housekeeping staff are certainly enjoying using their Quick Carts which have made for much easier transportation of cleaning supplies and guest amenities, as well as giving a more professional and discrete look."
The final stop on the UK tour was at Sanctuary Supported Living, where the care organisation's passionate cleaning team are dedicated to supporting some of society's most vulnerable people by providing them with clean and heathy independent living spaces.
The event was welcomed by Housing Team Leader, Dawn Moreton:
"It is rare to receive such recognition for a job well done so our team were absolutely delighted to be invited to take part in the Behind the Scenes of Clean celebrations.
"The event was another fantastic moment in our partnership with RCP, which has already benefited the cleaning teams by providing them with upgraded equipment which has allowed us to make significant efficiency gains as well as sustainability improvements, something that is incredibly important to us all here."
Get involved in 2024
We're making recognising the importance of thanking true hygiene heroes in the industry an annual event. Whether you're a cleaning supervisor looking to celebrate your team or a particularly proud member of a busy cleaning and maintenance team we want to hear from you!
If you want to get involved in the Behind the Scenes of Clean events in 2024 you can register your interest now by clicking here.